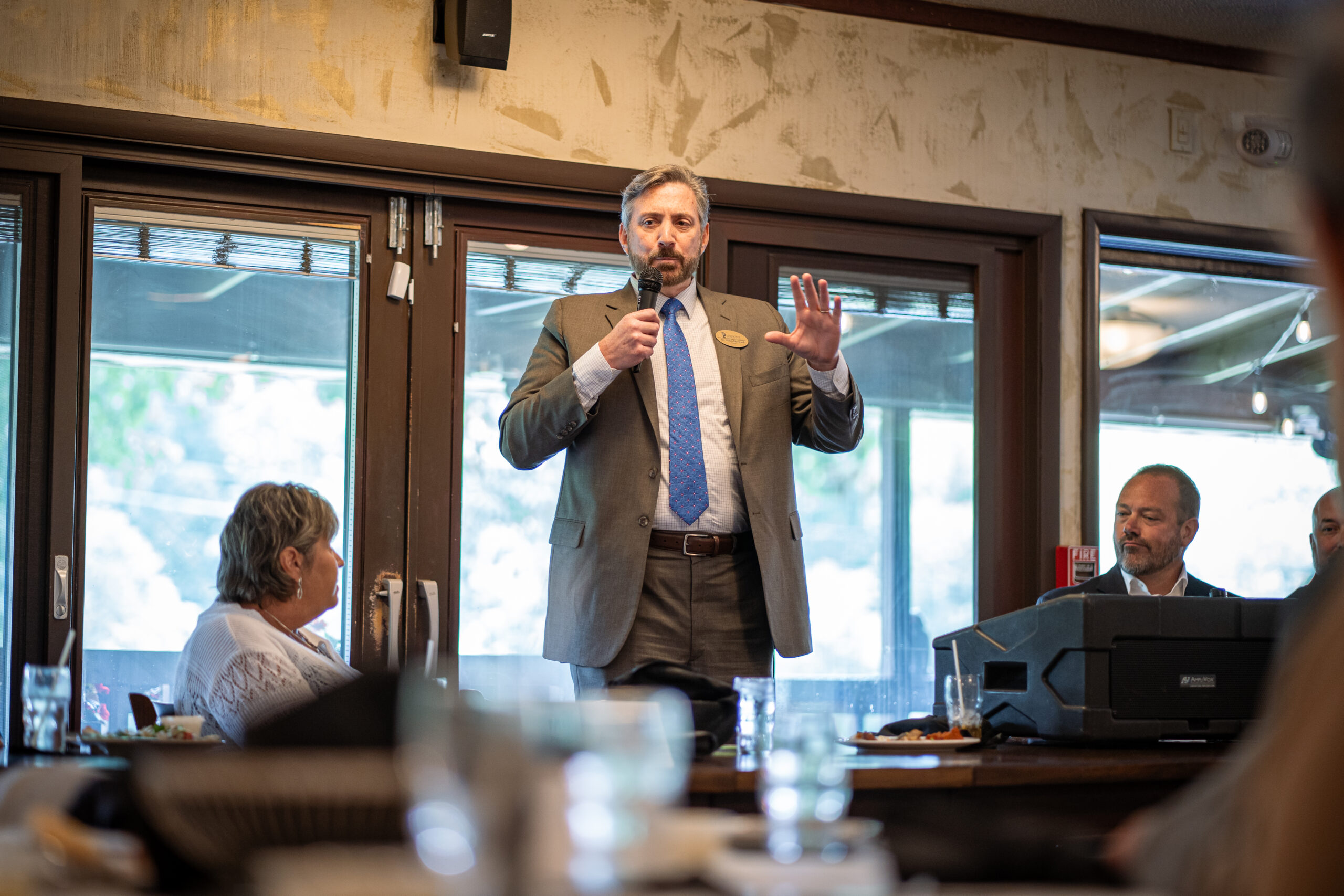 Original article written by John Mark Shaver from Fairmont News (WVNews) – Link to original article below.
FAIRMONT, W.Va. (WV News) — Monday afternoon, the Marion County Chamber of Commerce held a meet-and-greet for new Fairmont State University President Dr. Michael Davis and new Pierpont Community & Technical College President Dr. Milan Hayward, both of whom spoke about the importance of creating lasting connections in the community.
Marion County Chamber of Commerce President Tina Shaw said the Chamber wanted to host the event — which took place at Muriale's and saw a wide variety of community stakeholders attend — to give both the presidents and other local officials the opportunity to meet and speak with one another heading into the 2023-24 academic year.
"It is a rare moment that we have two new presidents of these large education systems in Marion County," Shaw said. "I think in the spirit of collaboration, we know they're going to collaborate, and we want to show them that the business community is here to collaborate with them."
Both presidents introduced themselves and gave a short summary of their professional histories before speaking about why they wanted to come to Marion County.
Hayward, who began working as Pierpont's president in June, spoke first, talking about the importance of making as many friends as possible in the community.
"Community college is the gateway for so many to the middle class and beyond," he said.
"We're here for all students, especially those who never considered themselves college material, and for those who are unable to attend full-time," Hayward said. "This country and this state will not succeed with people sitting on the sidelines. The biggest resource that the wild, wonderful and gorgeous state of West Virginia has to offer isn't beneath the ground. It's not even the beautiful rivers and waterways. It's human capital.
"We need your help. I need your help. Pierpont and Fairmont State need your help. I need friends here in Marion County. I need to count on each one of you as a friend of Pierpont. I look at this group as friends and as friends that I've yet to make. That's the way I will approach each one of you."
Hayward and Davis agreed that any tension between the two presidents "melted" the moment they sat down to eat lunch one day, and during Davis's opening introduction, he said the two institutions and the wider community all being able to work together is imperative for mutual success.
"One of the things that really drew me to this opportunity and to this place was the ability to collaborate," Davis said. "When I was interviewing, I kept hearing that Fairmont State and Marion County were the best kept secrets, and that drove me crazy. … I thought 'Let's stop keeping secrets.' Let's tell people who we are. Let's tell people what's important about what we do, and lets do it together. …
"Milan and I can't do it alone. Fairmont State can't grow without the City of Fairmont or Marion County. We can't grow without our partners at Pierpont. … If we're going to grow, we're going to have to find ways to partner together and grow together and see opportunity together."
Original article link: https://www.wvnews.com/fairmontnews/news/marion-co-west-virginia-holds-meet-and-greet-for-new-fairmont-state-pierpont-presidents/article_975f3a56-2f95-11ee-973f-7be98fcf37ab.html