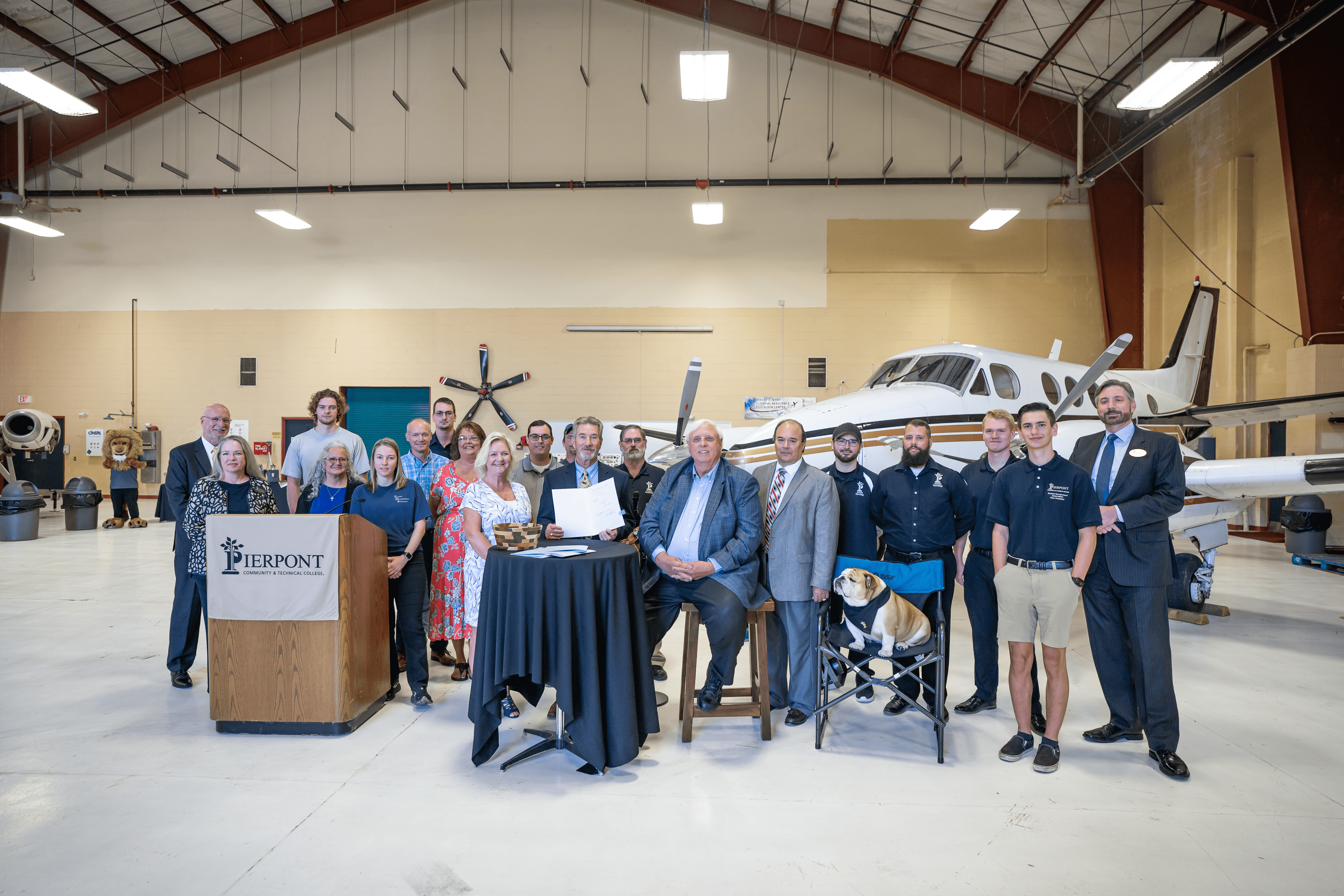 Fairmont, W.Va. – The sky is the limit for Pierpont Community & Technical College and its Aviation Maintenance Technology program. Today, West Virginia Governor Jim Justice joined Pierpont to sign Senate Bill 1029 into law, marking the start of a new journey to construct Pierpont's new aviation maintenance training facility.
Senate Bill 1029, passed by West Virginia State Legislature on August 8, provides a $25 million budget allocation to build Pierpont's new aviation maintenance training facility in Bridgeport.
Governor Jim Justice visited Pierpont's current aviation maintenance facility and held a ceremony to commemorate the occasion.
At the start, Pierpont Board of Governors Chair David Hinkle and President Dr. Milan Hayward thanked all who supported this endeavor and gave brief remarks before introducing the governor.
"It's a wonderful day to recognize the tremendous impact this college and program have not only [had] for North Central West Virginia, but the great state of West Virginia,"
Upon being introduced, Governor Justice spoke briefly about how impressed and proud he was of the work that made the new facility a reality.
"You worked hard to make not only today but the days that have already happened and the days of the future become a reality," said Justice. "In all honesty, what you're doing at this airport and what has been done here is unbelievable."
The aviation industry in West Virginia is rapidly expanding, with projections showing the need for hundreds of new employees over the next five years. The proposed 70,000 square-foot facility, including two high-bay hangers, will significantly increase the Pierpont program's space, allowing enrollment to grow to 200 students annually, meaning more graduates to meet the workforce demands.
"We're going to sign a bill here that is going to absolutely perpetuate even more goodness, more employment, more opportunity," said Justice.
"I'm excited we're here today. More than excited. Excited for North Central West Virginia, Excited for the industry that, as far as I'm concerned, has waited too long for this to take place. I'm excited for the students especially," added West Virginia Senate President Craig P. Blair.
Pierpont's Aviation Maintenance Technology program provides training in aircraft technology to prepare students to be qualified to take the Federal Aviation Administration (FAA) Part 147 tests. With a very hands-on curriculum, program graduates receive the training they need to become some of the best in the industry.
"I learn with my hands," said Blair. "There's a lot of us in the state of West Virginia just like that. That's what this school does. It provides learning and job opportunities for people like me."
At the end of the ceremony, Governor Justice and Senator Blair each signed the bill into law, making the aviation maintenance training facility official and bringing more hope and opportunity to West Virginians.
Governor Justice said it best with a quote from his father, "It has been an honor flying with you."
For more information on Pierpont Community & Technical College and its Aviation Maintenance Technology program, visit pierpont.edu or call 304-367-4800.