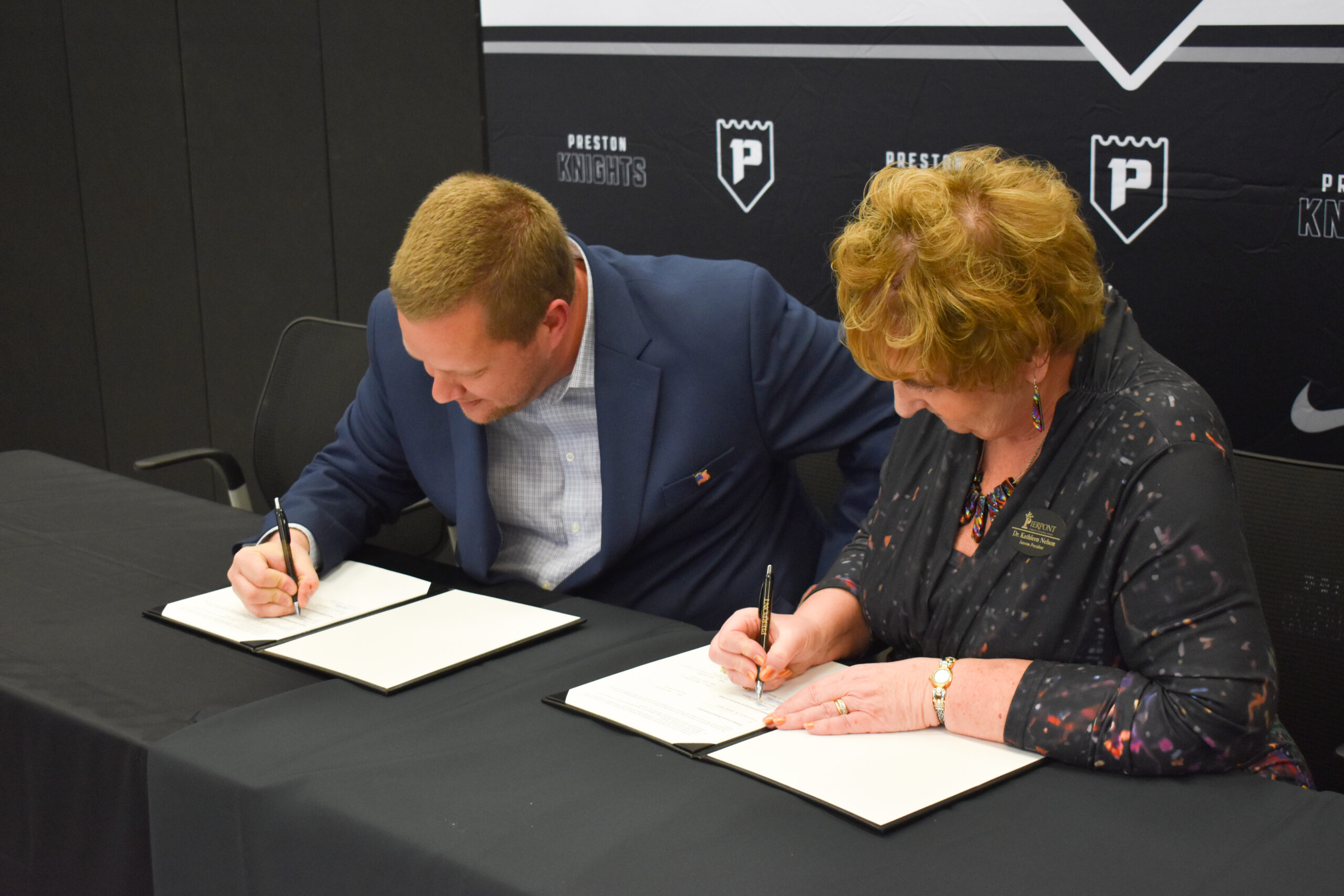 Fairmont, W.Va. – Last week, Pierpont Community & Technical College signed agreements for
its all-new College Academy with Barbour County and Preston County Schools.

The Pierpont College Academy, which is expected to have its first group of students this fall, is
a program that allows high school students to take courses through Pierpont and graduate with
an associate's degree in Liberal Arts, while completing their high school educations. The
program nicknamed "One Walk, Two Degrees," will allow students to receive both honors at
their high school graduations.

"The students in Barbour County are incredibly intelligent, resilient and ambitious," said
Michelle Fleming, director of federal programs and manager of secondary instruction with
Barbour County Schools. "They will thrive given the opportunities that Pierpont Community &
Technical College has to offer in allowing our amazing students to walk across the graduation
stage with two diplomas. We encourage all students at Philip Barbour High School to take
advantage of this opportunity within the hallways of their own high school."

The One Walk, Two Degrees program will only cost students $25 per credit hour and will allow
students to save significantly on the total cost of tuition.

"We know the burden that tuition payments can place on students and their families," said
Pierpont Interim President, Dr. Kathleen Nelson. "But with our new One Walk, Two Degrees
program, students can earn their degrees at a fraction of the cost of a traditional college going
experience."

Although students will earn degrees at the end of the program, their educations don't have to
end there. Students are able to use this program to continue their academic journeys by pursing
another associate's degree or move on to a four-year institution.
Education that Works!

Pierpont Community & Technical College is an Equal Opportunity, Affirmative Action Institution
"Any student completing this program will earn many of the general education courses for a
four-year institution," said Dr. Joni Gray, transitional education specialist at Pierpont. "This
means a student can jump right in and focus on selected major classes after high school."
Pierpont has signed multiple agreements with counties across the region, including
Monongalia, Upshur, Harrison and more.

On Monday, April 17, Marion County Schools will be signing their MOU to participate in the
"One Walk, Two Degrees" program.

For more information on Pierpont Community & Technical College, visit pierpont.edu.