This program provides training in the skills needed to be effective in maintaining health information. Such documentation assists in ensuring the continuity of care and protects the financial and legal interests of the patient, the health care facility, and the responsible practitioner caring for the patient.
Stephanie Newbrough
Assistant Professor/Program Coordinator
Students can take this program completely online.
Students can receive credit for professional credentials that you have received throughout your career.
Pierpont's HIT program is open enrollment.
HIT program can utilize stackable skill sets. While in the program, students can work toward receiving skill sets in:
Medical Administrative Assistant (Adv. Skill Set)
Electronic Health Record Specialist (Adv. Skill Set)
Medical Billing and Coding (Certificate)
With a degree in Health Information Technology, students can begin an exciting career in a variety of fields, including:
Health Information Technician
Medical Coder
Medical Records Technician
Median Salary Two Years After Graduation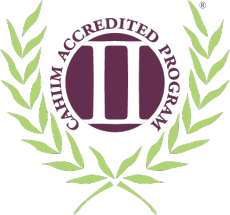 The Health Information Technology Program accreditor of Pierpont Community & Technical College is the Commission on Accreditation for Health Information Management Education (CAHIIM). The College's accreditation is for an associate degree in Health Information Technology Program has been reaffirmed through 2028. All inquiries about the program's accreditation status should be directed by mail to CAHIIM, 200 East Randolph Street, Suite 5100, Chicago, IL, 60601; by phone at (312) 235-3255; or by email at info@cahiim.org.
Program Data
Academic Year

Rentention Rate (Students in the program
beginning second year of study)

AHIMA Certification Rates
Satisfaction Rate of Graduates
2021-2022
67%
38%
81%
To see a model schedule for this program, please see our academic catalog.
Pierpont is an open enrollment institution. Only a standard Pierpont application is needed for this program.