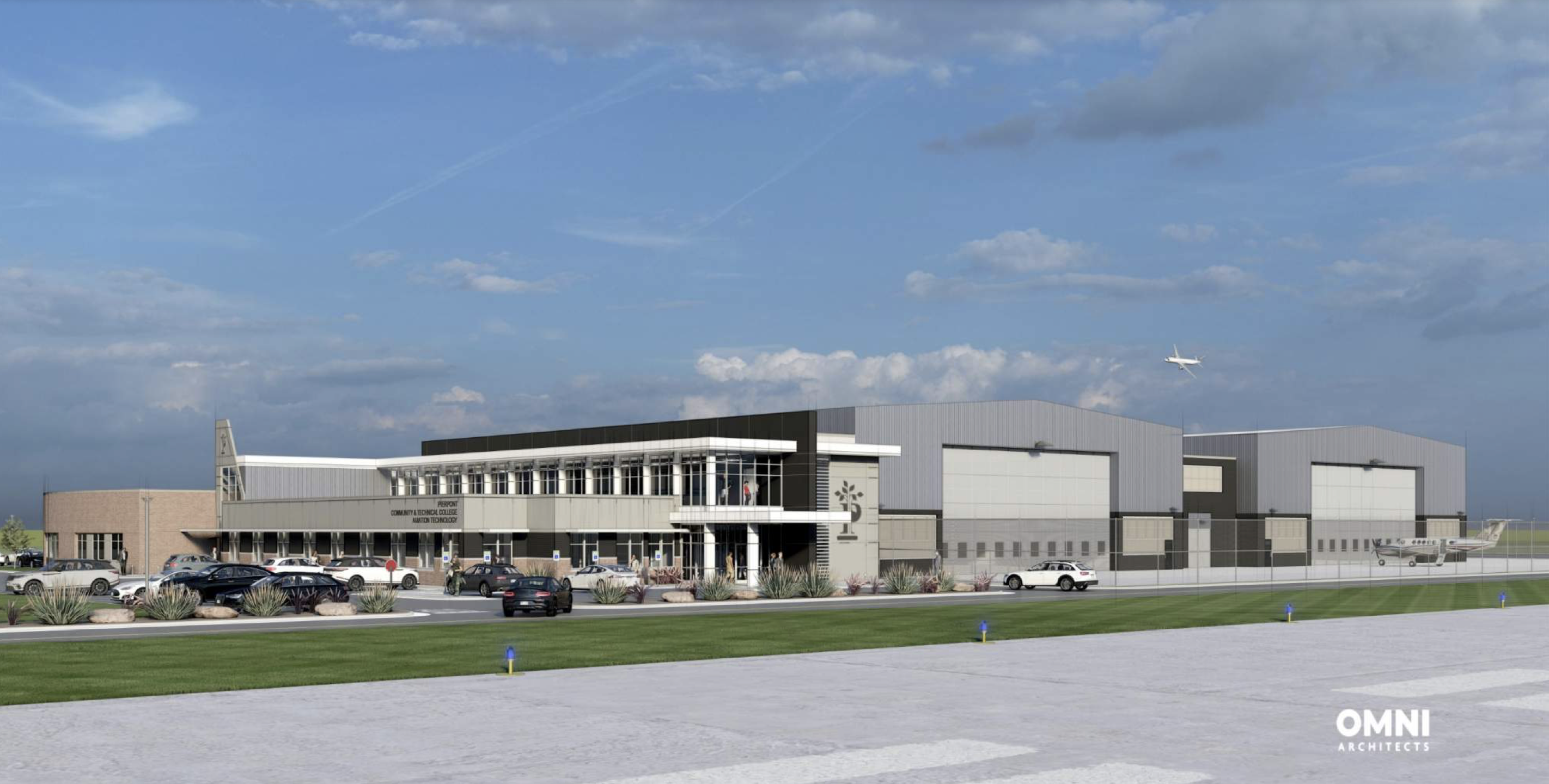 Fairmont, W.Va. – The West Virginia State Legislature has passed a $25 million budget allocation to build a new aviation maintenance training facility at the North Central West Virginia Airport, where Pierpont Community & Technical College's Aviation Maintenance Technology program will soon call home.
The proposed 70,000 square-foot facility will give the Pierpont program a significant increase in space, allowing for an increase in annual enrollment from 130 to 200 students per year.
"The new building and increased capacity will allow Pierpont Community & Technical College to better serve the community and the economic interests of the aviation companies in North Central West Virginia," said Dr. Brad Gilbert, director of aviation at Pierpont. "We will also be better able to adapt to changes in course offerings and have space available for evening and weekend courses as the demand increases."
The proposed design features two high bay hangers, aviation-related specialty labs, including shops for turbine and reciprocating engine overhauls, flight controls and hydraulics, lecture classrooms, and a learning resource and testing center. Pierpont's Advanced Welding program will also have shops and classrooms within the facility.
"Our Aviation Maintenance program has always been vital to the growth of West Virginia," said Dr. Milan Hayward, president of Pierpont Community & Technical College. "As the state's aviation industry grows, this new state-of-the-art facility allows Pierpont to provide even more highly-skilled and qualified graduates that are prepared to enter the workforce immediately."
"The aviation industry in West Virginia expects to grow rapidly in the near future, with hundreds of new employees expected within the next five years," added David Hinkle, chair of Pierpont's board of governors. "With the support of the State of West Virginia, this facility will allow this program to flourish and provide the education and training needed to continue building industry."
Pierpont's Aviation Maintenance Technology program provides training in aircraft technology to prepare students to be qualified to take the Federal Aviation Administration (FAA) Part 147 tests.
Offering a two-year associate degree and one-year certificates, students learn to perform maintenance, remove and replace components, troubleshoot, and repair aircraft systems while developing plans to analyze and develop solutions for aircraft problems using approved maintenance materials.
"The skill sets aviation technology students gain in the program are directly applicable to not only the aviation industry but many other industries in North Central West Virginia," said Gilbert. "Over the past 31 years, our graduates have provided dedicated service to the aviation industry as technicians, lead mechanics, crew chiefs, and administrators. Our graduates have been supporting the economic growth of this area since the program began, and it is great to see a new generation of students build upon that legacy."
For more information on Pierpont Community & Technical College and its Aviation Maintenance Technology program, visit pierpont.edu or call 304-367-4800.